Back
DOMINATOR-2 LEATHER JACKET
DOM2 BLK
BLACK COMPETITION WEIGHT
Mods + Rockers leather biker jacket with twin side belts
60s English style Rockers leather motorcycle jacket
Strengthened kidney panel
Chrome side buckles
Double buckle side-adjusters
Chrome hardware
1 Interior lining open-top wallet pocket
Competition weight steerhide
Black rayon lining
1 Zip-close front glove pocket
2 Zip-close exterior hand pockets
Zip-close cigarette pocket
ID key fob embossed with garment unit-number for reference
Windtight low-bulk zip close sleeves
Motorcycling in England started as a respectable activity. After WW2 this began to change as autos became more affordable, and motorcycles became transport for the less well-to-do. The English Rocker and the American Hoodlum subcultures arose simultaneously on either side of the Atlantic.
More jobs, better incomes, and a sense that, with the war over, a man could be free and independent. At the same time the English road system was dramatically changing from small, narrow, winding roads to racetrack-like arterial roads with transport cafes.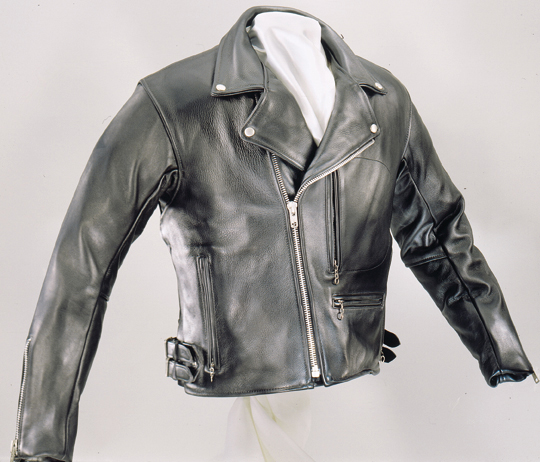 Simultaneously America, seen as a beacon of possibilities, influenced popular culture with films like the 1953 cult classic The Wild One. "What are you rebelling against, Johnny?", and he answers: "Whaddaya got?". 
English Rockers were "ton-up boys", because doing the ton was English slang for driving at 100 mph or more. Along the way, Rockers took what was essentially a sport and turned it into a motorcycle lifestyle.
On the other side were the scooter-riding Mods. In 1964 the rivalry between Mods and Rockers boiled over into a number of well-publicized brawls. Beginning with Easter weekend at seaside resort towns along the south coast of England, this rivalry turned violent. Margate, Broadstairs and Brighton all had gangs of Mods and Rockers openly fighting. At Brighton the fighting lasted two days, and moved from the Pier along the coast to Hastings and back, in what the newspapers of the day called the "Second Battle of Hastings".  An editorial in The Birmingham Post in May 1964 warned that Mods and Rockers would "bring about disintegration of a nation's character".
This was the crucible that created the Dominator, a version of the American "Brando" jacket. From the twin side-buckles to the front wallet-pocket, this jacket is Vanson's interpretation of a classic English Rocker jacket. Close your eyes, and you can see this classic jacket on a BSA Golden Flash, or Super Rocket, or Triumph Bonneville, or....a Norton Dominator.
SIZES......32..34..36..38..40..42..44..46..48..50..52..54..56..58..60..62
Size MED-(SZ 42 Chest measures 46.5 inches = NORM FIT (4.5 of chest ease)
Back length is 27 ----Front 22 ----Sleeves are 35 Nape of neck to Wrist.
Jacket is meant to cover the beltline - tha lower back waistband is dipped
to securely cover the lower back and beltline.
Side gussets and side belts allow adjustable bottom circumference sweep
from 39 to 43 inches.